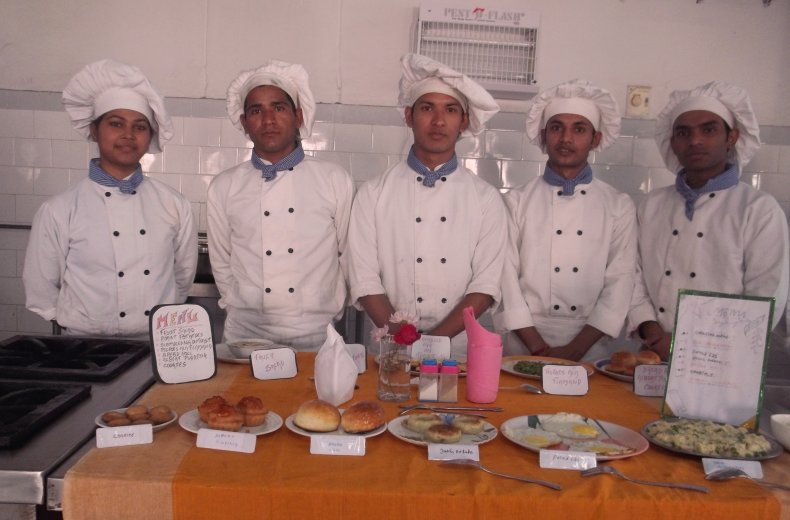 Bakery & Confectionery
The Bakery & Confectionery laboratory is fully equipped with modern machinery to provide extential training in bakery and confectionery so that the students acquire the right knowledge and skills in preparing essential bakery products and desserts similar to the products made in the star category hotels. This department is used by students from the first semester till their last semester so that they are well groomed in this specialty department.
Basic Training Kitchen (BTK)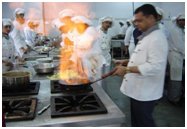 Basic Training Kitchen (B.T.K) imparts the basic knowledge about cookery. It equips the students with the basic skill of the various methods and science of cooking and to link the food with its nutritive values. The students work in small groups so as to gain more practice in developing their knowledge about food and its ingredients.
Quantity Training Kitchen (QTK)
At the Quantity Training Kitchen, (Q.T.K.), the second year degree students' prepare food as per industry standards followed in the banquets of 5star hotels. Here skills related to bulk cooking is imparted to the students so that they find themselves comfortable while handling huge operations in the future.
No doubts this kitchen can produce meals for few hundreds of people at ease due to its state-of- the-art infrastructure with all the modern kitchen gadgets. This kitchen deals with all the Indian regional dishes as per the prescribed curriculum of National Council. Emphasis is given to the all round development of trainee students including leadership, grooming, team management, physical fitness, hygiene, food presentation and garnishing. The students have a hands on learning on Food Cost control, Food safety and Quality along with the art of preparing the mouth watering dishes.
Advance Training Kitchen (ATK)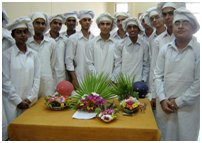 The Advance Training Kitchen (A.T.K.) is designated for the final year students. This kitchen provides a final brush up before the students take up responsible positions in the hotels at different levels. Dealing with International Cuisine, the students are trained in preparing dishes to perfection in French , Oriental, Italian ,German , Spanish , Greek , Mexican , Mediterranean and popular cuisines from all corners of the globe.
Diploma kitchen
This kitchen imparts the student with the basic culinary skills for commercial food production operation. Here the students are trained with all types of food of Indian, Continental and Chinese origin. There is also a speciality larder (cold kitchen) section which trains them in the intricacies of cold meat preparations, salad preparations and carving.
CBSP Kitchen
This is another kitchen separately designated for the Hunar se Rojgar programme of 8 weeks to ensure utmost guidance in imparting knowledge and skill to those who join this short term course. Set up in the style of a bulk kitchen, this kitchen holds equal pride in having similar modern equipments and set up as for other kitchens conducting NCHMCT curriculum.